WELCOME!!
Thank you for taking the time to read through the information.
To the left in "About Endodontics" you will find exactly what root canal treatment is all about.
In "Conditions" and "Treatment" this should answer why you have been referred.
For further information we welcome you to phone to speak with one of our friendly staff who are trained and well experienced in answering all your endodontic questions, as well as discussing things like timing of appointments, what the experience will be like, the best way to get here from anywhere in Victoria and any payment advise.
If you are seeking information on dental trauma PLEASE CALL IMMEDIATELY on 9794 9677, as timing is imperative to saving your natural tooth.
For those patients who may be nervous about having root canal treatment, we do offer to have the treatment undertaken with the assistance of Nitrous Oxide Sedation as well as in chair sedation with an Anesthetist or General Anesthetic at a reputable private hospital. Please speak to our friendly staff regarding these options if you feel like this would be of benefit for you.
---
What to Expect at Your First Visit
Our endeavor is to save your natural teeth in the most conservative and comfortable means possible.
When you arrive at our surgery you will be invited to fill in a confidential patient history form. Your treating endodontist will then check your medical history.
In order to diagnose your concern you will be asked to explain the history of your problem.
The endodontist will then examine your mouth and in particular the tooth or teeth in question. Digital radiographs (x-rays) in both 2D and 3D (CBVT) will be taken to assist in diagnosis as well as special test that may be required. We will very kindly request you remove any jewellery in order to take the CBVT.
Once a diagnosis and treatment plan is determined, the endodontist will explain the treatment options available as well as the fee involved.
If possible, treatment will be commenced at the initial visit. In the first stage of treatment the infection or cause of concern in your tooth will be addressed. A sedative restoration and, at times, a stainless steel band will be placed in order to allow the tooth to heal for a number of months.
You will then return for completion of the treatment. This usually involves finishing the root canal filling and building the tooth strong by placing a permanent restoration with cuspal overlay.
Most (but not all) root canal treated teeth will require a crown at some point in time after completion of the root canal filling. Your endodontist will want to review the tooth six months following treatment to ensure healing of the tooth. Subsequent to the review, the decision for timing of the crown will, in most cases, be left up to the expertise of your local dentist or specialist prosthodontist.
After each treatment you will be given Post Treatment Instructions on how to look after your tooth. Please call should you have any questions post treatment.
Written reports are always sent to your referring dentist detailing the treatment plan and result of treatment.
Please know we endeavour to treat all patients with the upmost respect and professionalism in the patients best interest. Know your rights Patient Charter of Rights
---
Patient Forms
In order to expedite your first visit, we welcome you to print and complete the forms below and bring them with you to your first visit.
In order to view or print these forms you will need Adobe Acrobat Reader installed. Click here to download it.
---
OUR LOCATION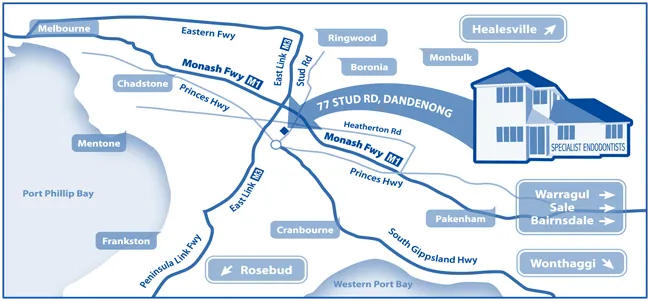 DRIVING DIRECTIONS