Comfort and convenience are the hallmarks of our practice.
We are easily accesible in the south eastern suburb of Melbourne, Dandenong, less than 1km from the Stud Road exit of the Monash Freeway (M1) and approximately 2km from East Link and Peninsular Link (M3 & M11). Free onsite parking.
Phillippe O Zimet
James Brichko
Registered Specialist Endodontists
77 Stud Road
Dandenong, VIC 3175
Telephone: 03 9794 9677
Fax: 03 9794 0558
OUR LOCATION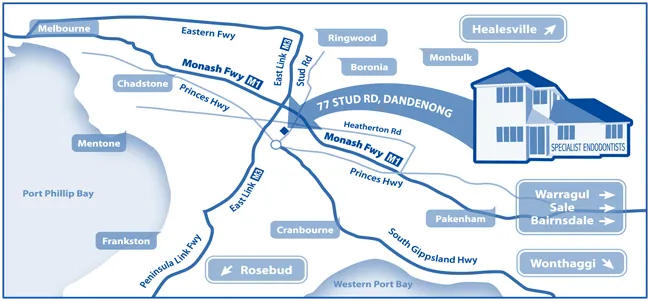 Facilities and Equipment
Our office has been recently renovated with state-of-the-art clinical facilities which provide maximum comfort for our patients, an efficient working environment for all the staff and a facility to allow training of other practifioner, dental students and dental auxilliary staff in the latest concepts of endodontics.